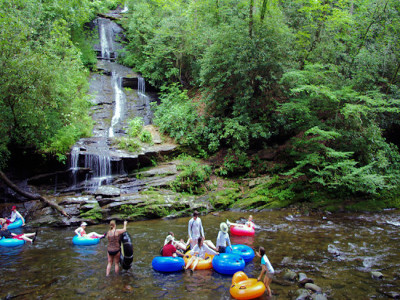 Just outside of Bryson City, NC, the Deep Creek section of Great Smoky Mountain National park offers swimming and tubing for outdoor lovers. Note that this is a popular spot, so you will be with lots of other folks enjoying this water.
The tubing ride consists of two sections including the upper "whitewater" section which ends with a wide, deep swimming hole and the lower section (more appropriate for smaller kids). Both put ins require hiking – for the easier section, put in just above the first bridge. For the more wild ride, put in at the top of Indian Creek.
There are several swimming holes as well for those who prefer not to tube. My favorite is above the second put in for tubing, so there are less people AND it's a waterfall.
Many businesses between Bryson City and the park entrance rent tubes.